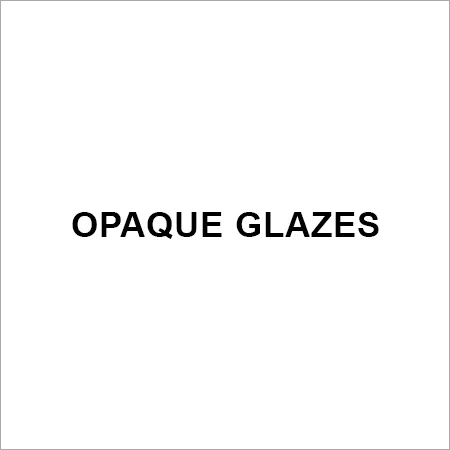 Opaque Glazes
Product Description
Ceramic or Pottery Frit is a ceramic composition formed by fusing inorganic materials into a glass by heating them in smelters and quenching them in water. This process, known as "fritting" and is used as a glass coating on clay body for its decorative and beneficial qualities. Ceramic Frits can be either fruited or raw .Manufacturers of fritted glazes, both transparent and opaque, for the bone china, sanitary ware, tile and tableware industries, as well as raw glazes for stoneware and porcelain. This frit can either be used directly in Low Temperature Earthen ware glazes, or as an additive to enhance gloss of High Temperature glazes.

Application Scope :
Tiles, Sanitaryware, Ceramicware, terracota items, electrical insulators and stoneware pipes
Benefits :
Combines the benefits of glass, better look and feel and strengthens durability. Ceramic glaze is an impervious layer or coating of a vitreous substance which has been fused to a ceramic body through firing. Glaze can serve to color, decorate or waterproof an item, stable and durable colours; can be processed into laminated safety glass with pressure resistance.
Product Details :
| | | |
| --- | --- | --- |
| Firing Temperature | Minimum Quantity of Order | Price |
| Fritted Glaze- between 750C to 1000C; Raw Glaze- above 1200C | 50 kgs | On demand |
Specification :

Sr. No

Product Particulars

Remarks

6.00

Fritted Glazes




6.01

MLG 2

Transparent Earthenware lead-free glaze - 900-1050oC

6.03

MLG 7

Leadless & Zincless Opaque Glaze for Terracotta and for Tiles - 950 - 1100oC

6.05

MLG 10

Titanium Opacified Leadless Glaze -1100-1150oC

6.06

SWG 3

Stoneware Pipe Brown Glaze 900-1200oC

6.08

TOG 04

Leadless Transparent Overglaze Flux - 750-850oC

6.09

CF 01

General Purpose Flux 750-850oC

6.10

CF 03

Flux for Selenium Red 750-850oC

6.11

CF 05

Flux for Non Gold Pink 750- 850 oC

CF 05 Cd SRBL


6.12

CF 06

Flux for Iron Red 750- 850 oC

6.14

CF 07

Flux for Blue 750- 850oC

6.15

CF 08

Flux for Black 750- 850oC




BC-2

Transparent Bone China Frit 1050oC




BC-7

Opaque White Bone China Frit 1050oC




BOF

Transparent Borosilicate Flux 850- 900o.C

7.00

Raw Glazes (-)120 mesh




7.01

TLO 11

Transparent Glaze for Stoneware 1180-1200oC

7.04

TLO 16

Opaque Glaze for Stoneware 1180-1200oC

7.06

TOU 8

Transparent Glaze for Porcelain - 1200-1300oC
Contact Us
P-22, Bondel Road, Kolkata, West Bengal, 700019, India
Phone :+918045802714